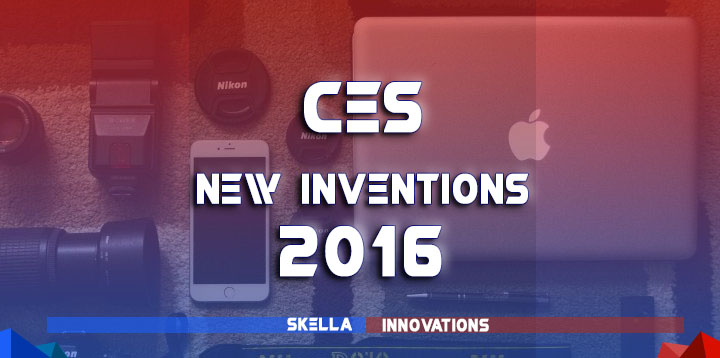 In our modern year, it's quite hard to think of something that hasn't been invented yet. From one invention to another, our world has been drastically changing. Thus, we think of ways on how to improve our lifestyle by adding features to a former innovation. It may seem to be very difficult to create something unique, however not to the people who showcased their new inventions in CES 2016. Consumer Electronics Show, the greatest annual technology show, has started 2016 with the thousands of awesome inventions from different companies and teams. Some gadgets are game changing and some are life changing which will improvise our way of living. This event was held in Las Vegas, Nevada. There are famous companies, such as HTC, Samsung, LG, etc, that exhibited their products. On the other hand, there are also small companies and inventors that stood out which showcased their talents, intelligence, and skills through their inventions. I have listed some of my favorite new innovations from CES 2016 below. You may also watch the videos and know the capabilities of these things.
Consumer Electronics Show 2016
1. HTC Vive Pre
Created by: HTC Corporation
---
 Features high-quality graphics, 90 frames per second video and incredible audio fidelity
Full Room Scale 360 Degree Solution with Tracked Controllers
New wireless VR controllers that will make you feel one with your virtual environment
Editors' Choice & Best Gaming Device by Techradar
---
2. Oculus Rift Virtual Reality
Created by: Oculus VR
---
3. Avegant Glyph
Created by: Avegant
---
Retinal Imaging Technology uses advanced optics and microscopic mirrors
accommodate a wide range of eyeglass prescriptions
ready to deliver 360-degree media with full head tracking
---
4. LG Rollable OLED TV
Created by: LG
---
5. Lily Camera
Created by: Henry Bradlow and Antoine Balaresque
---
Lily Camera The Flying Drone Camera That Follows You
water resistant
can fly up to maximum of 2 minutes with fully charge
tracker has the GPS, computer vision and the separate tracking technology
flies up to the height of 1.75 meter (5 feet) to the maximum of 15 meters (50 feet)
can move to the distance of 5 feet to 100 feet from you
makes use of 12-MP Sony Sensor in the built-in camera
record videos at 1080p at 60 frames per second and 720p video at 12 frames per second
This is one of my favorite inventions in CES 2016. Lily camera is not just a generic flying drone with high-quality camera, it will also follow you after tossing it. It records a perfect bird view angle video. This is an automated selfie gadget into a higher level that you would definitely love. The tracker with the GPS has to be inside your pocket so that the drone will follow you, especially when you want to show off your sports skills or anything that has to do with motion.
---
6. Ricoh Theta S 360° camera
Created by: Ricoh
---
7. Ripple Maker
Created by: Steam CC
---
8. Eco Usbcell Rechargeable Battery
Created by: Pilot
---
9. Parrot Disco Drone
Created by: Parrot
---
Most Unique Product by Techradar
---
10. Sphero BB-8 Force Band
Created by: Sphero
---
Best Wearable Tech by Techradar
---
11. LG Signature Fridge
Created by: LG
---
Best In-Home Gizmo by Techradar
---
12. Ehang's 184 AAV
Created by: Ehang
---
13. Panono 360 Camera Ball
Created by: Panono
---
14. Lenovo Yoga Tab 3 Pro
Created by: Lenovo
---
15. Seaboard Rise
Created by: ROLI
---
16. Chevrolet Bolt
Created by: Chevrolet
---
Best Car Tech by Techradar
---
► If you want to learn more about technology ideas for the future